Here at Crossroads we have a passion for music and worship! Our heart is that everyone would know the power that is found when we choose to worship! We understand that worship is more than a song, but a lifestyle! A phrase Pastor Jessie always says is "Excellence in all things." He believes that the Lord deserves the best we have to offer Him and it shows! Our Worship team gives their all every week and we are blessed by their musical talents. They believe in creating a strong team not only musically but relationally as well. CR Worship is one big family! We'd love to have you join the team!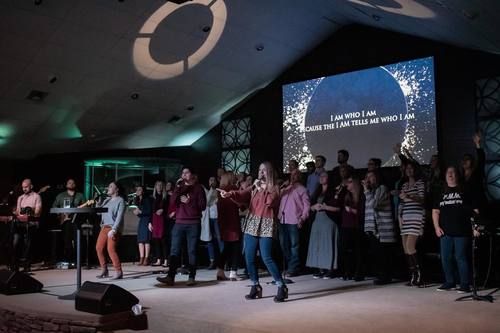 Pastor Jessie & Katie joined the CR Team in August of 2016. Coming from families of ministry themselves, they met while attending Lee University where Jessie traveled with the Lee Singers & Katie was active in theatre! After earning their degrees(Worship Studies & Church Administration), they got married & began in full time worship & youth ministry in 2014 in Tuscaloosa, AL. They transitioned to full time worship ministry when they moved to Crossroads Church in 2016! In 2017, they welcomed their amazing daughter, Logan. In 2020, Pastor Jessie became an ordained Bishop in the Church of God. Jessie, Katie, and Logan are proud to call Crossroads home & are so excited to see where the Lord is taking our church!
Follow us on social media.
We'd love to hear from you. Fill out the form below to get started.